NBC is booming up with the 22nd season of America's singing reality show The Voice USA for the year 2022 with amazing contestants and 4 judges The 22nd season of The Voice US started on September 19, 2022.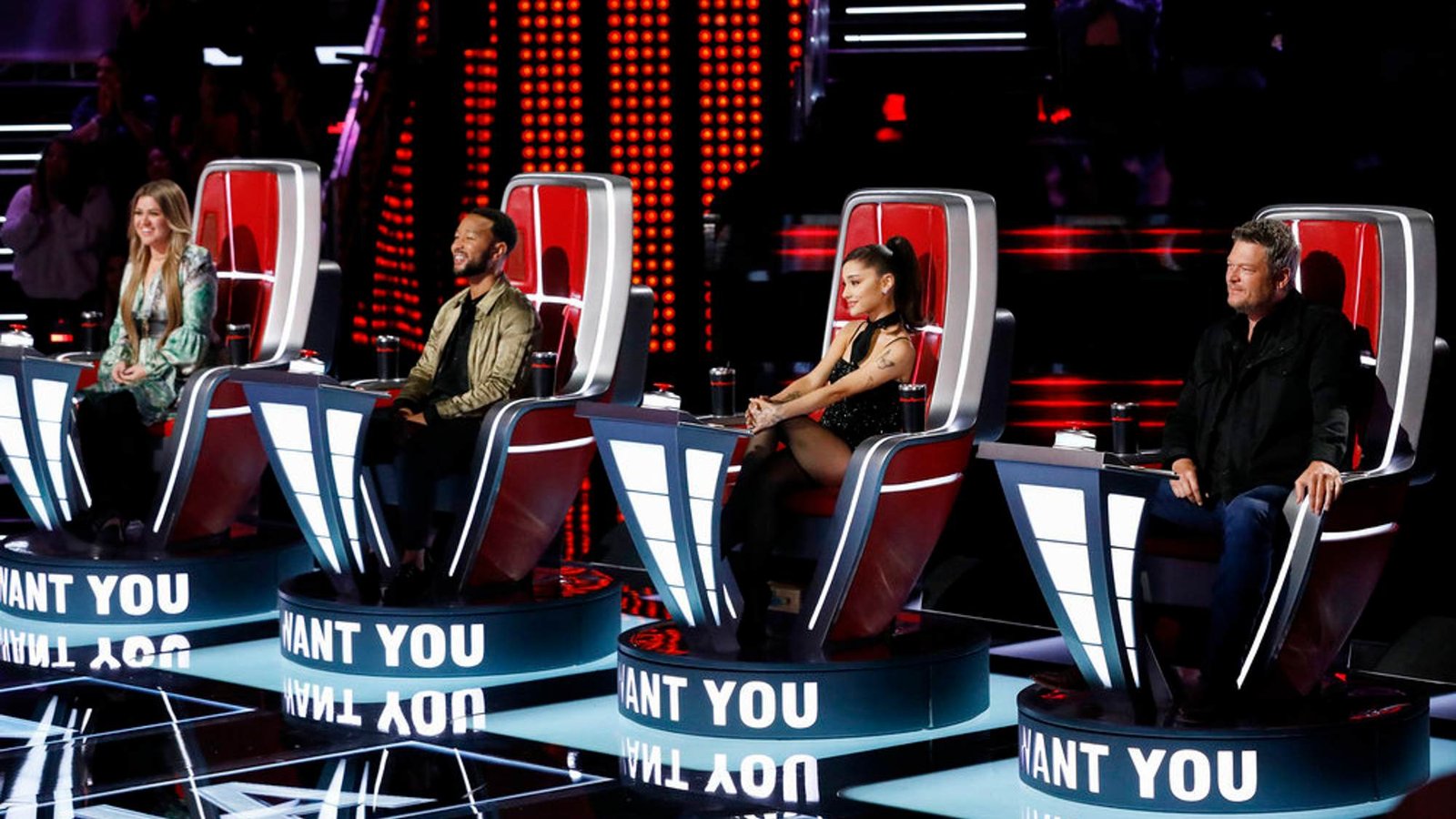 The Voice 2022 is being judged by Camila Cabello, John Legend, Blake Shelton, and Gwen Stefani. Meanwhile, Carson Daly returned as host for his twenty-second season.The season wrapped blind auditions on 10 October & now The Voice season 2022 is set to unleash the battles round.
The judges & artists have chosen their teams & coaches respectively & now four teams are ready for the clash. Here is an overview of contestants who auditioned & formed teams so far.
NBC The Voice 2022 Blind Auditions Contestants
| | | | | | |
| --- | --- | --- | --- | --- | --- |
| Sr No. | Artist Name | Age | Hometown | Song | Coaches/Team |
| 1 | Morgan Myles | 35 | Williamsport, Pennsylvania | "Hallelujah" | Camila |
| 2 | Omar Jose Cardona | 33 | Orlando, Florida | "Separate Ways (Worlds Apart)" | John |
| 3 | Ian Harrison | 20 | Lewis Center, Ohio | "The Night We Met" | Gwen |
| 4 | Tiana Goss | 28 | Los Angeles, California | "Say It Right" | Eliminated |
| 5 | Emma Brooke | 19 | Lyman, South Carolina | "California Dreamin'" | John |
| 6 | Orlando Mendez | 26 | Miami, Florida | "Beer Never Broke My Heart" | Camila |
| 7 | Alexis McLaughlin | 25 | Conroe, Texas | "Here I Go Again" | Eliminated |
| 8 | David Andrew | 25 | Detroit, Michigan | "Falling" | John |
| 9 | Jay Allen | 36 | Cedar Falls, Iowa | "'Til You Can't" | Gwen |
| 10 | JJ Hill | 34 | Pilot Rock, Oregon | "Inside Out" | Eliminated |
| 11 | Kate Kalvach | 27 | Pittsburgh, Pennsylvania | "Rainbow" | Blake |
| 12 | Reina Ley | 13 | San Tan Valley, Arizona | "Cielito Lindo" | Camila |
| 13 | Bryce Leatherwood | 22 | Woodstock, Georgia | "Goodbye Time" | Blake |
| 14 | KoKo | 31 | Mobile, Alabama | "About Damn Time" | Eliminated |
| 15 | Alyssa Witrado | 19 | Fresno, California | "Don't Speak" | Gwen |
| 16 | Devix | 28 | Queens, New York | "Heat Waves" | Camila |
| 17 | Chello | 22 | Chester, Pennsylvania | "Just the Two of Us" | Camila |
| 18 | Kevin Hawkins | 28 | Lancaster, Texas | "Isn't She Lovely" | Blake |
| 19 | Sadie Bass | 25 | Bath, Michigan | "Stupid Boy" | Gwen |
| 20 | SHEj | 26 | Atlanta, Georgia | "I Like It" | Eliminated |
| 21 | Brayden Lape | 15 | Grass Lake, Michigan | "This Town" | Blake |
| 22 | Peyton Aldridge | 25 | Cleveland, Mississippi | "Can't You See" | John |
| 23 | Andrew Igbokidi | 22 | Chicago, Illinois | "when the party's over" | Camila |
| 24 | Cara Brindisi | 34 | Shrewsbury, Massachusetts | "All Too Well" | Gwen |
| 25 | Billy Craver | 29 | Palm Beach Gardens, Florida | "She Got the Best of Me" | Eliminated |
| 26 | Valarie Harding | 41 | Muskogee, Oklahoma | "Giving Him Something He Can Feel" | John |
| 27 | Julia Aslanli | 23 | DeLand, Florida | "Let's Stay Together" | Gwen |
| 28 | The Dryes | 36 & 33 | Winston-Salem, North Carolina | "Islands in the Stream" | Blake |
| 29 | Ava Lynn Thuresson | 18 | San Diego, California | "…Baby One More Time" | Camila |
| 30 | Madison Hughes | 25 | Ponte Vedra Beach, Florida | "Knockin' on Heaven's Door" | Blake |
| 31 | Sasha Hurtado | 18 | Dallas, Georgia | "River" | Camila |
| 32 | Dominic Patrick | 37 | Philadelphia, Pennsylvania | "U Got It Bad" | Eliminated |
| 33 | Morgan Taylor | 20 | Carmel, Indiana | "Cuz I Love You" | John |
| 34 | Tanner Howe | 29 | Huntington Beach, California | "Mercy" | Gwen |
| 35 | Sydney Kronmiller | 25 | Ogden, Utah | "Latch" | Camila |
| 36 | Tanner Fussell | 28 | Statesboro, Georgia | "Anymore" | Blake |
| 37 | Eva Ullmann | 21 | Ponte Vedra Beach, Florida | "Light On" | Blake |
| 38 | Emani Prince | 22 | Fort Gaines, Georgia | "All My Life" | Eliminated |
| 39 | Kayla Von Der Heide | 30 | Hesperia, California | "Jealous Guy" | Gwen |
| 40 | Destiny Leigh | 18 | Sofia, Bulgaria | "A Song for You" | Gwen |
| 41 | Eric Who | 22 | Charleston, South Carolina | "bad guy" | Camila |
| 42 | Parijita Bastola | 17 | Baltimore, Maryland | "Jealous" | John |
| 43 | Kique | 18 | Miami, Florida | "Beautiful Girls" | Gwen |
| 44 | Hillary Torchiana | 34 | State College, Pennsylvania | "Easy on Me" | Blake |
| 45 | MANU | 18 | Howell, New Jersey | "Shallow" | Eliminated |
| 46 | The Marilynds | 30 & 34 | La Plata, Maryland | "What If I Never Get Over You" | John |
| 47 | SOLsong | 28 | Saginaw, Michigan | "Turning Tables" | John |
| 48 | Kara McKee | 36 | Cumberland, Rhode Island | "Woodstock" | John |
| 49 | Zach Newbould | 19 | Northborough, Massachusetts | "Use Somebody" | Camila |
| 50 | Lana Love | 30 | Naples, Florida | "Candy" | John |
| 51 | Daysia | 17 | Hampton, Virginia | "Crazy" | Gwen |
| 52 | Conner Sweeny | 23 | Nashville, Tennessee | "Ain't Worth the Whiskey" | Eliminated |
| 53 | Ansley Burns | 15 | Easley, South Carolina | "Unchained Melody" | Blake |
| 54 | Manasseh Samone | 22 | Dallas, Texas | "Rescue" | Eliminated |
| 55 | bodie | 29 | Los Angeles, California | "You Found Me" | Blake |
| 56 | Austin Montgomery | 19 | Hemet, California | "I Can't Help It (If I'm Still in Love with You)" | Blake |
| 57 | Dia Malai | 26 | Queens, New York | "Real Love" | John |
| 58 | The Little Miss | 31 | San Diego, California | "You Were Meant for Me" | Eliminated |
| 59 | Benny Weag | 29 | Lake County, Montana | "Shivers" | Blake |
| 60 | Jillian Jordyn | 17 | Melville, New York | "Issues" | Gwen |
| 61 | Hanny Ramadan | 23 | Voorhees, New Jersey | "Round Here" | Eliminated |
| 62 | Grace Bello | 21 | Cibolo, Texas | "Ghost" | Camila |
| 63 | Kim Cruse | 30 | Woodville, Texas | "Best Part" | John |
| 64 | Steven McMorran | 40 | Little Rock, Arkansas | "Never Enough" | Camila |
| 65 | Rowan Grace | 16 | Rapid City, South Dakota | "traitor" | Gwen |
| 66 | Yelka | 20 | San Diego, California | "No Me Queda Mas" | Eliminated |
| 67 | Constance Howard | 27 | Katy, Texas | "Peaches" | Camila |
| 68 | Justin Aaron | 34 | Junction City, Kansas | "Glory" | Gwen |
| 69 | August James | 21 | Chatsworth, California | "Heart of Glass" | Eliminated |
| 70 | Jaeden Luke | 22 | Bothell, Washington | "Make It with You" | Blake |
| 71 | Nia Skyfer | 26 | Havana, Cuba | "Bam Bam" | John |
The Voice USA Confirmed Contestants & Elimination
NBC The Voice Confirmed Teams 2022
Team John Legend
Omar Jose Cardona (Separate Ways by Journey)
Emma Brooke (California Dreaming by Mamas and Papas)
David Andrew (Falling by Harry Styles)
Peyton Aldridge (Can't You See by The Marshall Tucker Band)
Morgan Taylor (Cuz I Love You by Lizzo)
Valerie Harding (Giving Him Something He Can Feel by En Vogue)
Parijita Bastola (Jealous by Labrinth)
The Marilynds (What if I Never Get Over You by Lady A)
SOLsong (Turning Tables by Adele)
Kara McKee (Woodstock by Joni Mitchell)
Lana Love (Candy by Mandy Moore)
Dia Malai (Real Love by Mary J. Blige)
Kim Cruse (Best Part by Daniel Caesar ft. H.E.R)
Nia Skyfer (Bam Bam by Camila Cabello)
Team Camila Cabello
Morgan Myles (Hallelujah by Leonard Cohen)
Orlando Mendez (Beer Never Broke my Heart by Luke Combs)
Reina Ley (Cielito Lindo by Frito Bandito)
Devix (Heat Waves by Glass Animals)
Chello (Just the Two of Us by Bill Withers)
Sasha Hurtado (River by Bishop Briggs)
Ava Lynn Thuresson (Baby One More Time by Britney Spears)
Andrew Igbokidi (when the party's over by Billie Eilish)
Eric Who (Bad Guy)
Sydney Kronmiller (Latch by Disclosure ft Sam Smith)
Constance Howard (Peaches by Justin Bieber)
Team Blake Shelton's
Kate Kalvach (Rainbow by Kacey Musgraves)
Bryce Leatherwood (Goodbye Time by Conway Twitty)
Brayden Lape (This Town by Niall Horan)
Kevin Hawkins (Isn't She Lovely by Stevie Wonder)
Madison Hughes (Knockin on Heavens Door by Bob Dylan)
The Dryes (Islands in the Stream)
Eva Ullmann (Light On)
Tanner Fussell (Anymore by Travis Tritt)
Hillary Torchiana (Easy on Me by Adele)
Ansley Burns (Unchained Melody)
bodie (You Found Me by The Fray)
Austin Montgomery (I Can't Help it (If I'm Still In Love With You) by Hank Williams Sr.)
Benny Weag (Shivers by Ed Sheeran)
Jaeden Luke (Make it With You by Bread)
Team Gwen Stefani's
Ian Harrison (The Night We Met by Lord Huron)
Jay Allen ('Til You Can't by Cody Johnson)
Alyssa Witrado (Don't Speak by No Doubt)
Sadie Bass (Stupid Boy by Keith Urban)
Julia Aslani (Let's Stay Together by Al Green)
Cara Brindisi (All Too Well by Taylor Swift)
Destiny Leigh (A Song For You by Leon Russell)
Kayla Von Der Heide (Jealous Guy by John Lennon)
Tanner Howe (Mercy by Shawn Mendes)
Kique (Beautiful Girls by Sean Kingston)
Daysia (Crazy by Patsy Cline)
Jillian Jordyn (Issues by Julia Michaels)
Rowan Grace (traitor by Olivia Rodrigo)
Justin Aaron (Glory by Common and John Legend)
NBC The Voice USA Eliminated Contestants 2022
| | | | | |
| --- | --- | --- | --- | --- |
| Artist Name | Age | Hometown | Song | Status |
| Tiana Goss | 28 | Los Angeles, California | "Say It Right" | Eliminated |
| Alexis McLaughlin | 25 | Conroe, Texas | "Here I Go Again" | Eliminated |
| JJ Hill | 34 | Pilot Rock, Oregon | "Inside Out" | Eliminated |
| KoKo | 31 | Mobile, Alabama | "About Damn Time" | Eliminated |
| SHEj | 26 | Atlanta, Georgia | "I Like It" | Eliminated |
| Billy Craver | 29 | Palm Beach Gardens, Florida | "She Got the Best of Me" | Eliminated |
| Dominic Patrick | 37 | Philadelphia, Pennsylvania | "U Got It Bad" | Eliminated |
| Emani Prince | 22 | Fort Gaines, Georgia | "All My Life" | Eliminated |
| MANU | 18 | Howell, New Jersey | "Shallow" | Eliminated |
| Conner Sweeny | 23 | Nashville, Tennessee | "Ain't Worth the Whiskey" | Eliminated |
| Manasseh Samone | 22 | Dallas, Texas | "Rescue" | Eliminated |
| The Little Miss | 31 | San Diego, California | "You Were Meant for Me" | Eliminated |
| Hanny Ramadan | 23 | Voorhees, New Jersey | "Round Here" | Eliminated |
| Yelka | 20 | San Diego, California | "No Me Queda Mas" | Eliminated |
NBC The Voice Eliminated Contestants 2022