Conversion Canada's Got Talent
Canada's Got Talent is surely an amazing reality show that everyone has waited for. Dancing is one of the simple yet unique talents that we get to observe in this reality show. Conversion's dances are taking some good views ever since they auditioned for Canada's Got Talent.
Table of Contents
Conversion Group Bio
There are many people in this beautiful dance group. This dance group have attracted a huge audience base ever since they gave their audition performance on Canada's Got Talent. This famous group of dancers are from Trois-Rivieres, Quebec. Here are some more details of this famous big group of dancers given below:-
Conversion Team Members
Each and every member of Conversion has surely impressed both audience and judges. The road to their CGT was surely not easy, they had to practice hard every day to what they have achieved today. 
A conversion is a huge group of motivated dancers coached by Vincent Desjardins. All the members have a studio in Quebec, which is their hometown where they practice their unique dance steps. All the people in this dance group follow whatever their coach and supervisor order them.
Some of the people in the dance group have revealed that, ever since they were small, their coach has led them to dance and made them what they are today. 
Interestingly, this famous dance group includes 36 people working and dancing together. All of them dance in beautiful sync that no one has ever seen in their life.
Conversion Audition Performance
Just like any other audition performance in the reality show, Conversion entered and gave a short and brief introduction to the audience and judges. This huge dance group performed their auditions nearly a month ago today. Few girls first came to the stage and represented themselves to the audience and judge. They revealed that they are a group of dancers from Quebec and would be dancing a tribute to their coach Vincent and his wife.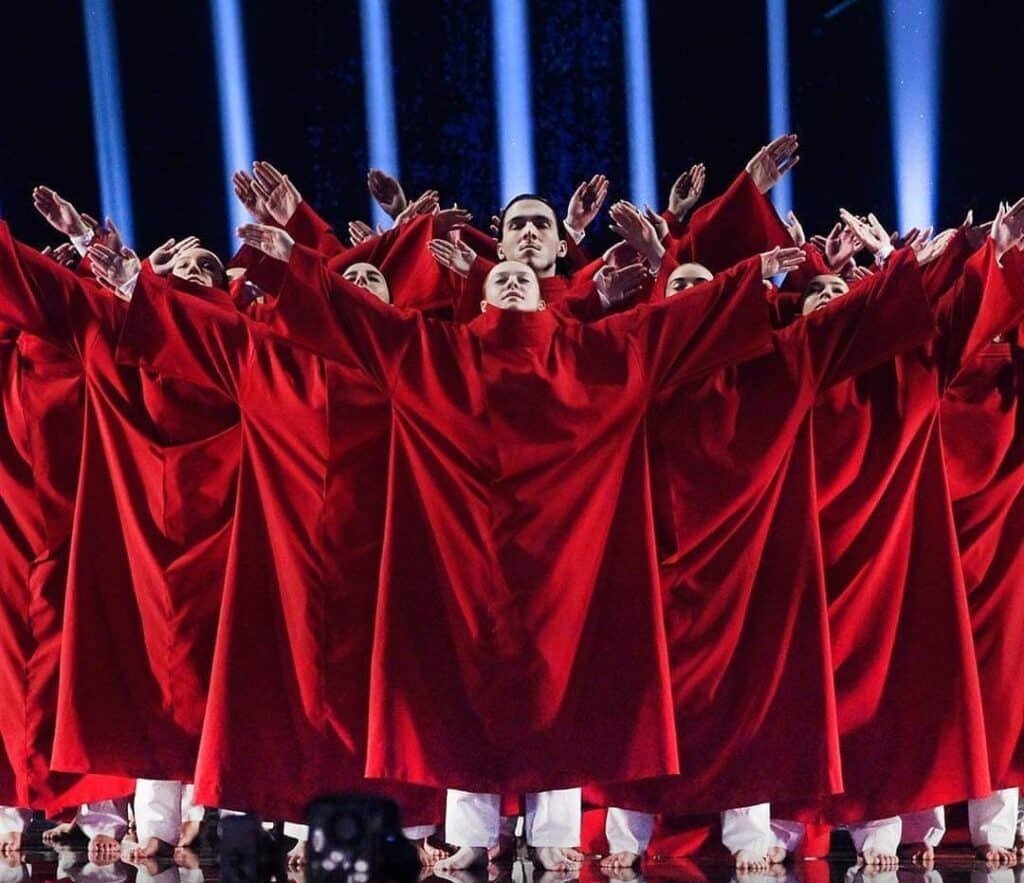 The reason why they wanted to give a tribute audition was that their coach and wife was struggling with fertility problems for many years. But, that changed as they were going to welcome a baby in a few days.
We then saw all the dancers entering the stage wearing matching grey-colored outfits. Then the group danced to the heartbeat of their coach's baby in an emotional routine. All the 36 bodies on the stage were dancing in sync with a piece of beautiful music and depicted a good moral at the end.
Trish Stratus one of the judges of the show was highly emotional when their audition performance ended. The audition performance of this beautiful dance group ended with a dramatic moment. We saw all the dancers strike their arms through a large piece of black cloth or fabric. 
With their brilliant and heart-touching performance, Conversion got a standing ovation from the judges and the audience. Interestingly, Trish who was emotional at the end of the performance revealed that Conversion is the biggest dance group Canada's Got Talent has ever had.
Last Performance & Ticket to Finale
In some way, many audience or fans knew that with such a beautiful audition performance, Conversion is surely going to the finale. The conversion gave their last performance quite recently and booked a place in the finale of Canada's Got Talent. 
They were the Trish Stratus' golden buzzer group of dancers in the show. Some of the members in the group revealed that the auditions they gave were a super-personal story. It was all about the baby of their coach and the ultrasound of the baby's heartbeat. Their unique dance steps and performance helped the group reach the semi-finals of the show.
This time in the semi-finals, the group was seen in a full red outfit. Underneath their red outfit, they were wearing grey outfits. All of them were without any shoes on the dance floor. This huge dance group started their unique dance on 'Take Me to Church'. We do have to agree that, the dance was highly emotional and went perfectly with the song they had chosen. 
Again, at the end of their performance, the whole group got a standing ovation from the judges and the audience. This helped the dance group to move forward in the show and book a spot in the finale.
Will they become winners of Canada's Got Talent 2023? 
Winning or losing is always a part of a competition show or game. The biggest moment of Conversion is that they showed the world what they are all capable of. Their dance moves and their sync were amazing. The dance group had come so far and booked a space in the final spot of the reality talent show now, we cannot expect the group to not go home without the finale trophy or award.
This dance group could surely win the finale of Canada's Got Talent. They have shown proper respect, discipline, and act before the audience and judges. These are some criteria that must be present inside a winner.
Performance on Other Platforms
Prior to participating in Canada's Got Talent 2023, Conversion participated in HTF Gatineau 2019 and 2022. We have to agree that, the dance group have got better ever since they participated in this huge world-class platform. They brushed their dancing skills and are portraying them beautifully to all the audience and viewers across the country and world.