Five farmers coming and happily finding they are ever after in 2023. Incredible right it feels like yesterday when we watch the couples facing challenges on the farm to find their future wife. The season featuring five couples and all finding their better halves made the season most successful season till now.
After the success of the season the of finding love on the farm has returned with its latest season. Fox has officially confirmed the renewal of the season with the new cast of farmers hopeful to find their love in 2024.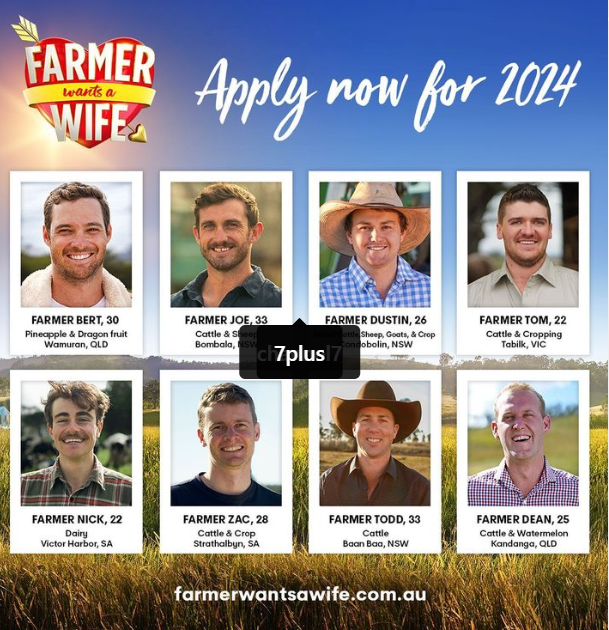 Table of Contents
After finding the ever-after love in the previous season the officials of the Farmer wants a wife has renewed for the new season coming in 2024. the makers of the show have revealed the farmers who are hopeful to find their true love and soon-to-be wife on the show.
Farmers applied from around Australia to find their true love but only five will be chosen among them to appear on the series and find their future love.
Here are the cast members that will be featured in the Farmers Wants a Wife in 2024:
Farmer Dustin
Dustin secured the family's heritage and raised Cattle, sheep and crops. Dustin is from New South Wales. He is 26 years old and has a polite nature with a good sense of humour. Dusting is looking for a high-spirit fun-loving girl with good nature.
Dustin gives the most importance to his family and loves one so he is expecting the same from his future wife. He wants his wife from a harmonious closely woven family who will match him and keep his people connected. The self-proclaimed Dustin has plans to marry and settle down before the age of 30.
Farmer Bert
Bret coming from Wamuran, Queensland is a fruit farmer. 30 years old but is disciplined and selfless. He is hard-working and has run the farm on his own. He has done all the hard work independently and now he is looking for the perfect partner he can share the same qualities with.
He is searching for someone who will understand his deduction to his work, help him in the work and easily settle down with everyone. Just like Bert, she should be someone who possesses a great sense of humour, an adventurous personality, polite nature and adventures to make a good bond with Bret.
Farmer Joe
Being a Rugby player travelling around the world Joe has settled his heart on his family's farm. Joe wants to bring the cattle and sheep farm of his family back to life. Joe is considerate and very affectionate towards his family. He is very close to his mother and very caring for his family.
He has a charming personality at the age of 33 as well. He has an infectious smile with a caring nature and he is looking for the same qualities in his love. Now the farmer wants a wife and he wants to bond with someone who is the same as him, caring and understanding.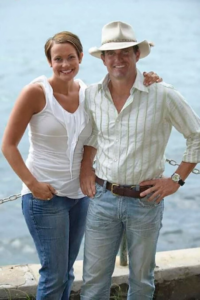 Farmer Tom
Flying from Tablik, Victoria, 22-year-old Tom is on the way to find his love in the Farmer who wants a wife in 2024. Tom is a farmer who is specialized in cattle and crop cultivation.
Tom is very fond of his father and shares a special bond while running their farm together. Tom has been managing his contract business since his teenage years showing his passion. Tom has a great sense of humour and possesses a vital point of view towards life.
He feels joy in music and horse shows, he is passionate about exploring new things. He can manage the toughest situations in life with a smiling face and has dedicated himself towards it.
He is joining the show to find someone who is as loving and caring as him. Having a wonderful mix of hard work and dedication and most importantly humour to understand life.
Farmer Nick
Nick from Hindmarsh Tiers, South Australia is an Italian dairy farmer, Nick is just 22 but has a completely different point of view about his partner. He is mature and adventurous. It is stated that Nick is affectionate towards his Nonna and engages in exploring new places.
He has culinary skills and got gifted skills to interact with anyone. Nick wanted to experience the journey of passionate love while having a partner worth sharing everything before getting tied into the Marriage. He is passionate about improving the quality and productivity of his farm.
Farmer Zac
Zac is a 28-year-old cattle and crop farmer from Strathalbyn, South Australia. He was a contract helicopter musterer and owned three helicopters. Along with farming, he manages a successful business of helicopters for tours in South Australia. Zac has an adventurous personality.
However, he has qualified as an agronomist and has immersed knowledge of agriculture. Now Farmer Wants a Wife Zac is aiming to find someone reliable and committed to him, someone who can add extra va; due to his life and work.
Farmer Todd
The down-to-earth and polite Todd from Baan Baa, New south wales is a 33 years old farmer. Todd is a simple guy having basic requirements. He is hardworking, easy going and has a great sense of humour.
He is ready to find someone similar to him. He is someone who can be humorous and fun-loving but at the same time, he can be serious when he needs to be. He prioritizes family over everything.
Farmer Dean
Inheriting the family farm and acquiring the family's legacy Dean is a cattle and watermelon farmer. Dean is 25 years old and lives in Kandanga, Queensland. Witnessing the successful marriage of his parents and the adorable pair of his grandparents has motivated him to find someone.
The ambitious dean is seeking a partner who is ambitious, adventurous and outgoing like him. Dean is looking for more of a partnership instead of a relationship.
List of Farmer Wants a Wife Cast 2024
The makers of The Farmer Wants a Wife has released the cast for the coming season in 2024.
Farmer Dustin
Farmer Bert
Farmer Joe
Farmer Tom
Farmer Nick
Farmer Zac
Farmer Todd
Farmer Dean
More will be revealed soon. So to know the upcoming cast and get the latest information on the show stay connected.
When is coming back Australian farmer wants a wife in 2024.
Fox has officially announced the next season of Farmer Wants a Wife in 2024. The casting for the upcoming season has been started and it is estimated that the producers are ready to release it in 2024.