Sweet Magnolias is a 2020 released American romance/drama genre American television series. The series is based on Sweet Magnolias books written by author Sherryl Woods. The very first season of the series premiered in the year 2020 on its original network, Netflix.
The series has got three seasons under its belt and has got a total of 10 episodes altogether matching its previous two instalments. As of now there is no major updates about the renewal status for its fourth but it is only a matter of time before official announcements are made.
Table of Contents
What Is Sweet Magnolias Season 4?
Sweet Magnolias is a friend group name where Maddie Townsend seems to be the leader of it. The character of Maddie is played by JoAnna Garcia Swisher whom we see that she has just divorced with her husband, Bill. The couple shares three children as well in Serenity South Carolina.
Maddie is one of the central characters in the series whom we see that she wants to get back in the workforce. But, at the same time, she goes through a series of ups and downs in her life and tries her best to manage both her personal life and as well as her professional life
The third season is the latest arrival of the romance/drama series. Maddie is seen jumping into new relationships and seems to be in a season for her character where she just wants to do some self-discovery. Kids of Maddie have also contributed to some drama in the latest season where one of her children Ty played by Carson Rowland seems to have decided not to attend college.
Kyle played by Logal Allen seems to have ended up with Lily played by Artemis. Annie, played by Anneliese Judge, is secretly dating Jackson, played by Sam Ashby but ends up breaking up with him.
Overview of Sweet Magnolias
| | |
| --- | --- |
| Series name | Sweet Magnolias |
| Number of seasons (currently) | 3 |
| Based on | Sweet Magnolias Books by Sherryl Woods |
| Genre | Romantic Drama |
| Original network | Netflix |
| Executive producer(s) | Sherryl Woods Sheryl J. Anderson Dan Paulson |
| Director | Norman Buckley |
| Season 4 Renewal Status | Not renewed yet |
Is Sweet Magnolias Season 4 Renewed On Netflix?
The third season of Sweet Magnolias has just recently arrived on Netflix. All the 10 episodes of the latest season were released altogether in the streaming platform on July 20th 2023 and as of this writing it has been less than a month. Therefore, the production team has yet to renew the series for yet another season and if it gets renewed then viewers and fans can expect the arrival of season 4 by 2024 or 2025.
How Is The Performance of Sweet Magnolias Season 4 On OTT?
Season 3 has just arrived on the streaming platform and positive reviews are flourishing already about the overall performance of the third season. Viewers will be impressed with the latest season as there is lots of drama going on in this season.
After binge-watching all the fresh ten episodes of season 3 several viewers took it up to their Twitter saying that it was a good season and it seems like Cal and Maddie have created a great impact on the fans and viewers.
All in all, the performance of the latest season has been up to the mark and viewers seem to be quite satisfied with how the creators are taking things forward with the characters and the overall plot. The fourth season has not been renewed yet.
List Of Major Contestant Of Sweet Magnolias Season 4
If there is a fourth season then fans can expect to see all the original casts reprising their respective roles. The casts that we could expect in case there is a fourth season are:
JoAnna Garcia Swisher as Maddie Townsend
Maddie Townsend is the protagonist in the series. Townsend seems to have grown up in the town of Serenity. She seems to have a friendly nature and a kind woman
Brooke Elliott as Dana Sue Sullivan
Sullivan, in the series has been introduced as a chef, and also the owner of a restaurant called Sullivan's. She too is one of the main characters in the series who seems to have a friendly character just like Maddie
Heather Headley as Helen Decatur
Helen Dacatur is introduced as a successful lawyer and her character has seen going through in a love triangle. She is one of the second member of Sweet Magnolias friends group
Jamie Lynn Spears as Noreen Fitzgibbons
Noreen plays the mistress of Bill in the series. Her character seems to be not-so-beloved but brings depth in her personality in the series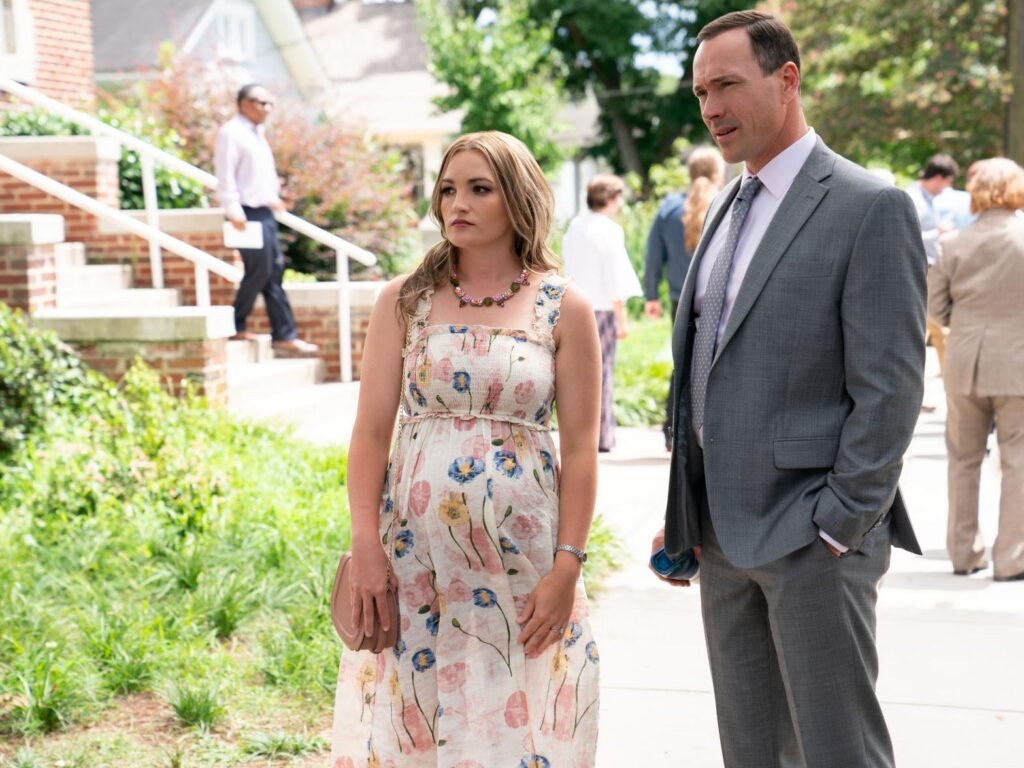 Justin Bruening as Cal Maddox
Maddox is introduced as a former professional baseball player who is the new coach of Serenity High School
Chris Klein as Bill Townsend
Bill is the ex-husband of Maddie and a father to his three children Ty, Kyle, and Katie. He is also the ex-fiance of Noreen
You can check the current contestant of the show
– JoAnna Garcia Swisher as Maddie Townsend 
– Brooke Elliott as Dana Sue Sullivan 
– Heather Headley as Helen Decatur 
– Jamie Lynn Spears as Noreen Fitzgibbons 
– Justin Bruening as Cal Maddox 
– Chris Klein as Bill Townsend