AGT Season 18
The Latest chapter of 'America's Got Talent': AGT Season 18 has arrived. The show premiered last week on NBC with Judges Howie Mandel, Heidi Klum, Simon Cowell & Sofia Vergara returning.
AGT Season 18 Contestants have made mind-blowing performances till now & all the acts have gone viral. The contestant will compete for the ultimate AGT 2023 Winner title.
So far we have got three Golden Buzzer Performances which means they have been advanced for the show. The Actsvincluding Mzanchi Youth Choir, Atlanta Drum Academy & Putri Ariani has got the Golden Buzzers Till now.
Table of Contents
AGT Season 18 Contestants
Every week 12 contestants are performing out of which one is awarded with Golden Buzzer, so far more than 50 contestants have auditioned on America's Got Talent 2023, here is the comprehensive list of America's Got Talent Contestants 2023.
Which Contestants have been Selected from Auditions?
So far, Mzansi Youth Choir , Putri Ariani & Atlanta Drum Academy have been selected for further round, let's wait for today's performances for an updated list.
AGT Season 18 Contestants – Week 3 Auditions
1. John Wines
John Wines was the very first performer in yesterday's episode. He is a music teacher who resides in the United Kingdom. This music teacher was seen wearing a grey cardigan, a pair of black pants, and black shoes below. Moments changed when he was handling a classic electric guitar and he started playing a classic Queen track on his electric guitar.
Instantly while he started playing with his electric guitar the audience went ablaze with applause. At the end of his show, he received a standing ovation from both judges and the audience. It seemed like he couldn't believe what he had done before the judges and audiences.
John was moved to tears when the crowd started chanting 'We want more'. In the end, all the judges were bound to give a 'yes' to John Wines.
2. Brynn Cummings
Brynn Cummings came was the second contestant to perform her performance in the show. She is a ventriloquist and even before her performance, it seemed like Sofia Vergara was quite excited. She was seen wearing a green dress along with white shoes.
She immediately amazed all the judges and the audiences by mixing ventriloquism with metallism alongside her dragon puppet Penelope. During the performance, it seemed like all the judges and the audience were having fun with Brynn.
She even came to the judges and performed a card trick and Simon was surprised. In the end, Simon called her 'so talented and so charming'. Later, all the judges united in their 'yes' which helped Brynn to her next round in the show.
3. Roland Abante
Roland Abante is a karaoke singer who hails from the Philippines. He surely has an incredible voice which helped him surprise all the judges and the audience. All judges came into tears when they heard what were his profession back in his hometown.
He said that in the morning he is a fisherman and in the afternoon he drove a motorbike to deliver passengers. He also revealed that it was his big dream to be a part of America's Got Talent season 18. He then started with the song 'When a Man Loves a Woman' and immediately received a standing ovation from the whole crowd.
Roland even got a hug from Simon Cowell who revealed along with Howie that his emotions made the performance greater. All the judges were bound to give a 'yes' to him.
4. Riccardo Pace
Riccardo Pace was the fourth contestant to perform his auditions in the show. He was seen wearing a magician's dress when he came to perform for his auditions. He immediately received a red X button from Simon Cowell. He was dressed as an opera singer, but his hand-noise instrumental made all the judges think twice.
Simon maintained his no button throughout his auditions but, on the other hand, all the three judges settled down to a 'yes'. They gave 'yes' only because the act was something unique and the audience was cheering for the act.
5. Ahren Belisle
He is a 28-year-old comedian who spoke to the judges through a text-to-speech application. He was seen wearing a shirt, grey trousers, and a pair of brown shoes. At the end of his show, Simon called him 'funny and fearless'. On the other hand, Sofia noticed his great positive energy and wished him that he could win the finale of America's Got Talent.
Now, going down the line, all the judges along with the audience were impressed with his performance and received a 'yes' vote.
6. Grace Good
Grace Good surely took the hula hoop to the next level in her auditions. She played with lots of objects and did quite an amazing performance with them. It seemed like she could handle multi-tasking jobs very easily. She performed some amazing stunts before the whole auditorium which left them surprised.
People became more surprised when she started performing with fire rings. Sofia called her 'exciting ' and then all the judges without any delay gave her a 'yes' immediately.
7. Alfie Andrews
This 12-year-old claimed to be a singer since he was 0 years old. Now, as he was 12 years old he was quite something of a singer with lots of experience. He then started singing 'Hold My Hand' and we could see all the people inside the auditorium singing along with this little and talented young boy.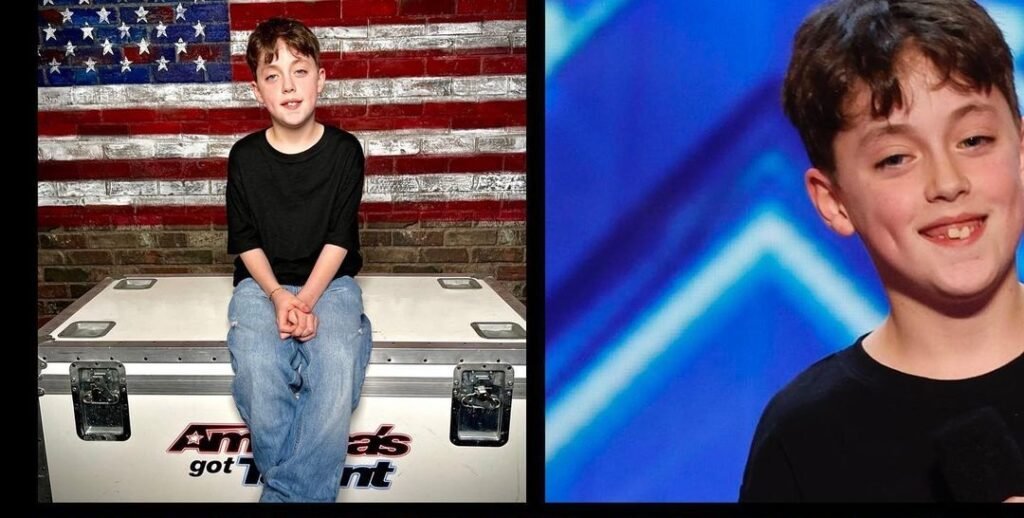 The moment he ended his song, he received a standing ovation from the audience. Without any doubt, his audition performance surprised all the judges and he collected a four 'yes' and got another chance in the competition show.
8. David Rush
David is an aspiring Guinness World Record breaker who returned to AGT after a break. In his audition show, he attempted to break a Guinness World Record along with Howie Mandel. Howie was called on stage to achieve the record for the most fist bumps. Immediately, into the 30-second time, all the other three judges gave a Red X button.
On the other hand, the adjudicator reviewed his clip in slow motion and the result turned positive. David earned a new world record for 380 fist bumps in 30 seconds. Unfortunately, all three judges maintained their 'no' but, David got a 'yes' from Howie.
9. Alexandr Leshchenko
Alexander and Lena are husbands and wife respectively from Ukraine who came to participate in AGT last night. They revealed that they were married for more than ten years now. The moment they revealed that they are from Ukraine, it just changed the whole environment inside the auditorium.
Both the couple were in tears while receiving a huge standing ovation from the crowd. Alexandr is a choreographer and director who created gallohraphic cube and his wife is the muse. She is a creative producer. Then they started their act where Alexandr was seen dancing inside a red holographic box.
Along the dance, there were lots of images being used which were synced to the dance amazingly. Howie was quite amazed by the fact that Alexander was able to 'flourish creatively'. Both the couple received a 'yes' from all the judges of the show.
10. Herwan Legaillard
He was the tenth contestant to perform his auditions in AGT last night. Sofia Vergara was quite excited looking at this 33-year-old's outfit for his auditions. This guy hails from France. When he was asked what would he do, he simply said 'let's see'.
Herwan is nothing but, a sword swallower. While conducting his act people were quite scared looking at his audition. After putting a normal sword, he even put a glowing sword into his mouth. This is where all the judges and viewers were amazed and in the end, he received a 'yes' from all four judges.
11. Chioma and The Atlanta Drum Academy
The Group was the final performance of thee day and got the Golden Buzzer from Terry Crews. To find the complete performance of the Atlanta Drum Academy group read here.
AGT Week 4 Contestants
El Invertebrado
The first performer of the fourth episode auditions at this competitive platform was El Invertebrado. The jump scare she offered to the whole auditorium while making her entrance caught the whole attention of her performance. All the judges and the audience were scared looking at the costume.
She is a zombie pole dancer who had put on body contortions which were quite hard to look at. It is because the make-up done to the body was simply amazing. The character gave an amazing pole dance performance along with some yoga and stretching which looked thrilling.
The body figure and the structure were matching quite amazingly as per her act. In the end, she received a standing ovation from the audience and amazed all the judges. All the four judges present were bound to give a 'yes' to El Invertebrado.
Warrior Squad
The second audition were India's Warrior Squad on the talent platform. The group included lots of people and it was Rahul Yadav who introduced himself and the group. He revealed that they were from a small village named Kanhai, Gurgaon, Haryana, India.
It was he who created the group only because he wanted his village people to show their hidden talent to the world. He also revealed that they do not have any support to share their talent. It was the very first time that they had come to America to perform and the biggest platform so far. Then the squad started their acrobatic show before the whole audience.
Before starting their performance, Simon revealed that he was rooting for them. The squad did some amazing stunts along with the motivating music in the background. In the end, their performance got a huge round of applause from the whole auditorium. This group from a small village received a 'yes' from all the judges.
Dani Kerr
The third participant in the show was Dani Kerr who is a singer. She came in with a guitar in her hand and was seen wearing a black dress along with a pair of white shoes. She revealed that she loved music ever since she was very little and young.
She was just here to give her voice to the world and show how talented she was. Unfortunately, she was stopped and received a 'boo' from the crowd. Simon asked her that if she bought another song with her and she said 'yes sir'. Dani then started singing her original song 'November' Now, it seemed like the crowd was loving her voice and her lyrics. She did perform amazingly throughout the song and received a 'Yes' from all the four judges.
Poose the Puppet
This was next in line and it did not go as it was planned. The moment Poose the Puppet bought out a human puppet for a ventriloquism, Simon instantly hit his red X button and then it was followed by Sofia and then Howie. It was at this moment when the crowd chanted 'boo'. It was Sofia who hit the red X button for Heidi, who seemed to have some hope but, it did not go well for Poose the Puppet.
Sweaty Eddie
Sweaty Eddie also known as Sweater Edward. He is a drag king who portrays amusing and mysterious personas in his performances. He has performed in various drag race shows and is quite famous for it. Eddie is seen coming along with Steve Goodtime. Unfortunately, both of them were given a 'no' vote from the judges along with red X buttons from all the judges.
Eseniia Mikheeva
You won't believe but, but she is an amazing and cute 7-year-old hip-hop dancer. Sofia was quite excited to see this little girl and was quite amazed to see her beautiful hair. When she was asked 'When you are doing tonight at AGT?" by Sofia, Eseniia proudly replied "I am a dancer" and this was when the whole auditorium went crazy.
This little girl was seen wearing a white t-shirt, a jacket over it, a pair of jeans, and shoes. Her performance brought some serious energy to the whole auditorium all the fans were shouting and screaming her name while she was performing. It was Sofia who gave her a first 'yes' followed by Heidi, and the other judges.
Murmuration
This was the audition performance everyone was waiting for in the fourth episode. They were a 65-people dance group from France. There were so many people who were going to perform on this stage and it was surely an unbelievable performance from them.
The group was seen wearing black dress for both girls and boys excluding the leader in the middle. Before starting their performance, all of them blindfolded themselve and were set up in four rows at ascending heights. The synchronization along with the leader and all the participants at the back was just amazing.
This French group was really doing something quite different as compared to others. Even before finishing their performance, the people were already giving them a standing ovation. It was Howie who was moved quite a lot and gave them a Golden Buzzer and sent the group straight to the live shows.
Charles Haycock
He is a celebrated local comedian from Canada. Charles revealed that, he has been doing comedy for 10 years. Other than that, he also works as a yo-yo salesman. Initially, he was booed by the audience when he performed with his bike on a bus. It was Simon and Heidi who clicked their red X button. It was Maureen Langan who took to the stage to try her own luck and change the mindset of the crowd. In her act, Maureen played herself as the victim to a series of people in her life and Simon called her 'fearless'. Without any delay, the judges agreed that Maureen should go to the next round and gave a yes.
Anna DeGuzman
Anna is a magician who performed her auditions on America's Got Talent. She revealed that she is one of the few magicians who conducts magic and is willing to motivate many other girls. Anna also revealed that she has been doing magic for the past 5-6 years but, she believes that her whole life has been magic.
This 24-year-old was seen wearing a pink dress and revealed that she moved around a lot. She started with card magic before the judges at their desks and performed an amazing card trick. Yes, the card trick worked very well and received a 'yes' from all four judges.
Nina Sampaio
This amazing and talented female artist hails from Brazil and was able to solve the Rubik's cube while singing the Pink song 'Try'. Howie thought that it was quite amazing how she did two random things and her original skill together and gave a great performance before the whole auditorium.
On the other hand, Simon liked her act and called her 'likable'. All the four judges in the show gave her a 'yes' and she was quite happy and satisfied with this.
Thomas Vu
It was the last audition act of the day and the episode. Thomas Vu had an amazing skill to solve the Rubik's cube in a unique way. Before starting, he promised all the judges that he can solve it within 30 seconds. It was Terry Crews who came up to the stage and scrambled the Rubik's cube and kept it before him.
Thomas came back covered in gel and a man who came with a fire extinguisher. It was because Thomas was in fire and he took less than 30 seconds to solve the Rubik's cube puzzle. Yes, his whole body was on fire and solved the puzzle amazingly.
All the judges revealed that the act was very scary and they all wanted to see Thomas in the next round. This is how Thomas Vu got a 'yes' from all the judges of the show.
AGT Season 18 – Week 5 Contestants Audition
The Sharpe Family Singers Audition
The first to audition was The Sharpe Family Singers. This group included parents and their four children. Even before starting their performance Howie, said "I Love You Guys". Unfortunately, Simon was still muted and did not speak a word in this auditions as well.
The group was seen wearing casual dresses for their auditions on America's Got Talent. The audition song of this humble and great family group was "How Far I'll Go" and we do have to agree all the people in the group did it amazingly. Each of them had a different voice and role to play in the whole song.
During the auditions, the whole auditorium was singing along with this group. This impress all the judges of the show and as a result, the group received a 'yes' from the judges.
Adrian Stoica and Hurricane Audition
The second in line for the auditions in the 18th season of America's Got Talent was Adrian Stoica and Hurricane. The funny part was, we saw Simon playing his voice through a soundboard which featured some of his past words that he could express through buttons.
Adrian revealed that he came from Italy and he was on the stage with his best friend Hurricane. He also revealed that he is the best friend of Hurricane for the past nine years. Adrian revealed that he is a dog coach. Immediately, after finishing up his introduction his best friend, a dog (Hurricane) came up to the stage.
People were already in awe when they saw Hurricane entering the stage and were ready for his talent. Hurricane then performed a beautiful act before the whole auditorium where we saw he was helping Adrian with many household works. On the other hand, the crowd was continuously cheering for both the participants.
In the end, Howie called them as one of his favourite dog acts in America's Got Talent. All the other three judges combined gave a huge 'yes' to this cute group from Italy.
Chen Lei Audition
The third participant of America's Got Talent season 18 episode five was Chen Lei. He is an amazing acrobat who performed amazingly before the whole auditorium yesterday. Just like any other acrobat participant he was seen naked on top and was wearing a black pants below and was barefoot.
Chen Lei did some amazing stunts and all the judges were amazed looking at his amazing talent. He was rotating, jumping, standing, climbing, and doing everything that an acrobat does. The audience at the back was amazed looking at this amazing talent that most of them have never seen before.
It felt like he had total control of all parts of his body as he was balancing them perfectly. This amazed all the judges and Chen was given a chance to perform in the next round.
Trailer Flowers Audition
It was Trailer Flowers who took the stage in the fourth position of America's Got Talent. Both of these girls were seen wearing a pair of blue jeans, a cowboy hat, and a jeans blue top. Everything was going quite well when they first started singing their audition song before the whole audience.
Then it was Simon who raised his hand and asked them to sing a second song. The duo instantly revealed that they do have a second song and they would like to perform on that. Yes, the second song sung by this duo was quite better as compared to its first song. After the duo finished their second song, the whole audience gave them a standing ovation.
We could see Simon giving them a 'thumbs-up' sign. Howie revealed that these guys are total singers. There was even a funny incident between Howie and Simon. All the judges then gave them a 'yes' which helped them move forward in the talent competition show.
Erica Coffelt Audition
This audition was one of the most emotional auditions in America's Got Talent. Her dress-up looked like she was a singer but, Erica revealed that she would be dancing today. This is when the crowd went crazy to see some amazing dance moves from Erica Coffelt a 36-year-old lady.
Simon asked this lady, where she learned to dance, and she answered by saying "I'm a self-taught dancer". She then started dancing to hip-hop music and the crowd as said earlier was going crazy. In the end, she received a standing ovation from the crowd.
Despite being a 36-year-old lady her energy was something else. Immediately, she started crying and became emotional. Sofia revealed that she was 'surprisingly very good'. She then received a 'yes' from all the judges and was very proud of herself.
Ryland Audition
This audition was simply amazing. Ryland revealed that he was 10 years old and he was from England. Heidi asked this kid 'what was his talent?' Ryland revealed that he is a magician. Ryland also revealed that he was doing magic since he was two years old and was born with magical powers.
He used letters and numbers to show a predictive form of magic. This magic show that Ryland portrayed before the audience was quite unique. It was a never-before-seen magic show which shocked the whole auditorium. It was Heidi who gave this little guy a 'yes' and all the three judges followed her.
M Audition
The judges and the people at the back did not know what M would perform when he walked into the stage. Unfortunately, whatever questions he was getting from the judges, he did not answer any of them. There was a piano placed on the stage, and we saw Sofia jumping out of her seat when they saw a second M behind her.
Simon and Heidi both pressed the red X button and Howie did not understand the act. On the other hand, Sofia liked their act and said "You monsters did a good act". But, that did not work well with these guys and it was a straight "no'.
Barry Brewer Junior Audition
This comedian participant was not in his best condition when he came for his auditions on the stage. Barry revealed that he faced an accident while playing basketball and did not want to miss this great opportunity and wanted to perform for all the viewers. He was going to perform stand-up comedy but, he will not sit down and dance. Barry used the keys to the piano at the back to underscore his storytelling brand of comedy.
This was quite unique and the whole audience loved this approach from this participant. He spoke about black church music and we do have to agree it was hilarious. In the end, all the judges were bound to give him a 'yes' and it helped him move forward for the next performance.
Justin Jackson Audition
Justin said he was born, raised, and still lives in Montreal, Canada. He is a 33-year-old tap dance artist. Then he started his performance on Humble from Kendrick Lamar. His moves were surely amazing which left all the people in awe including the four judges.
He even performed right in front of the judges using his feet. We do have to agree that, his feet surely do an amazing job. All the judges thought that Justin's hard work was worthy and all of them voted a 'yes'.
Sangsoom Kim Audition
He is a South Korean magician who nailed the stage with his amazing talent. Sangsoom revealed that, before doing magic shows in his hometown he was in the military. He was seen performing magic tricks using shoes and there was music going on in the background.
Of course, at the end of his magic show all the people inside the auditorium were surprised. He then received a 'yes' from all the judges.
Lachune Audition
This was the last audition of the fifth episode of America's Got Talent season 18. Lachune is a singer from South Carolina and is both a student and a vocal teacher. She revealed that she had always observed her family members singing and never embraced the moment.
But, her intention was to take this talent before the whole world starting with America's Got Talent. Lachune then started singing Yellow by Coldplay and surely her voice was so beautiful and amazing. The whole crowd was moved and shook hearing her voice and the song she chose. In the end, she received a huge standing ovation from the whole auditorium.
She also revealed to Simon, if this was any of her students then she would have been clapping for them right now. All the four judges of the show gave her a grand 'yes'.
Is there any Golden Buzzer performance amongst AGT Season 18 Contestants?
Yes, Mzansi Youth Choir have received the Golden buzzer in first episode followed by Putri Ariani in second week & Atlanta Drum Academy in 3rd week of the show.