1. John Wines
John Wines was the very first performer in yesterday's episode. He is a music teacher who resides in the United Kingdom. This music teacher was seen wearing a grey cardigan, a pair of black pants, and black shoes below. Moments changed when he was handling a classic electric guitar and he started playing a classic Queen track on his electric guitar.
Instantly while he started playing with his electric guitar the audience went ablaze with applause. At the end of his show, he received a standing ovation from both judges and the audience. It seemed like he couldn't believe what he had done before the judges and audiences.
John was moved to tears when the crowd started chanting 'We want more'. In the end, all the judges were bound to give a 'yes' to John Wines.
2. Brynn Cummings
Brynn Cummings came was the second contestant to perform her performance in the show. She is a ventriloquist and even before her performance, it seemed like Sofia Vergara was quite excited. She was seen wearing a green dress along with white shoes.
She immediately amazed all the judges and the audiences by mixing ventriloquism with metallism alongside her dragon puppet Penelope. During the performance, it seemed like all the judges and the audience were having fun with Brynn.
She even came to the judges and performed a card trick and Simon was surprised. In the end, Simon called her 'so talented and so charming'. Later, all the judges united in their 'yes' which helped Brynn to her next round in the show.
3. Roland Abante
Roland Abante is a karaoke singer who hails from the Philippines. He surely has an incredible voice which helped him surprise all the judges and the audience. All judges came into tears when they heard what were his profession back in his hometown.
He said that in the morning he is a fisherman and in the afternoon he drove a motorbike to deliver passengers. He also revealed that it was his big dream to be a part of America's Got Talent season 18. He then started with the song 'When a Man Loves a Woman' and immediately received a standing ovation from the whole crowd.
Roland even got a hug from Simon Cowell who revealed along with Howie that his emotions made the performance greater. All the judges were bound to give a 'yes' to him.
4. Riccardo Pace
Riccardo Pace was the fourth contestant to perform his auditions in the show. He was seen wearing a magician's dress when he came to perform for his auditions. He immediately received a red X button from Simon Cowell. He was dressed as an opera singer, but his hand-noise instrumental made all the judges think twice.
Simon maintained his no button throughout his auditions but, on the other hand, all the three judges settled down to a 'yes'. They gave 'yes' only because the act was something unique and the audience was cheering for the act.
5. Ahren Belisle
He is a 28-year-old comedian who spoke to the judges through a text-to-speech application. He was seen wearing a shirt, grey trousers, and a pair of brown shoes. At the end of his show, Simon called him 'funny and fearless'. On the other hand, Sofia noticed his great positive energy and wished him that he could win the finale of America's Got Talent.
Now, going down the line, all the judges along with the audience were impressed with his performance and received a 'yes' vote.
6. Grace Good
Grace Good surely took the hula hoop to the next level in her auditions. She played with lots of objects and did quite an amazing performance with them. It seemed like she could handle multi-tasking jobs very easily. She performed some amazing stunts before the whole auditorium which left them surprised.
People became more surprised when she started performing with fire rings. Sofia called her 'exciting ' and then all the judges without any delay gave her a 'yes' immediately.
7. Alfie Andrews
This 12-year-old claimed to be a singer since he was 0 years old. Now, as he was 12 years old he was quite something of a singer with lots of experience. He then started singing 'Hold My Hand' and we could see all the people inside the auditorium singing along with this little and talented young boy.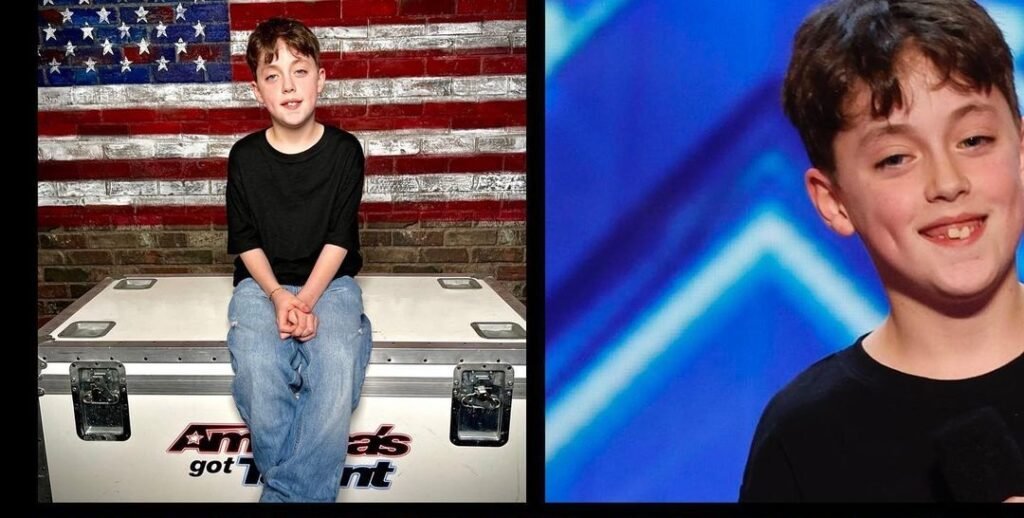 The moment he ended his song, he received a standing ovation from the audience. Without any doubt, his audition performance surprised all the judges and he collected a four 'yes' and got another chance in the competition show.
8. David Rush
David is an aspiring Guinness World Record breaker who returned to AGT after a break. In his audition show, he attempted to break a Guinness World Record along with Howie Mandel. Howie was called on stage to achieve the record for the most fist bumps. Immediately, into the 30-second time, all the other three judges gave a Red X button.
On the other hand, the adjudicator reviewed his clip in slow motion and the result turned positive. David earned a new world record for 380 fist bumps in 30 seconds. Unfortunately, all three judges maintained their 'no' but, David got a 'yes' from Howie.
9. Alexandr Leshchenko
Alexander and Lena are husbands and wife respectively from Ukraine who came to participate in AGT last night. They revealed that they were married for more than ten years now. The moment they revealed that they are from Ukraine, it just changed the whole environment inside the auditorium.
Both the couple were in tears while receiving a huge standing ovation from the crowd. Alexandr is a choreographer and director who created gallohraphic cube and his wife is the muse. She is a creative producer. Then they started their act where Alexandr was seen dancing inside a red holographic box.
Along the dance, there were lots of images being used which were synced to the dance amazingly. Howie was quite amazed by the fact that Alexander was able to 'flourish creatively'. Both the couple received a 'yes' from all the judges of the show.
10. Herwan Legaillard
He was the tenth contestant to perform his auditions in AGT last night. Sofia Vergara was quite excited looking at this 33-year-old's outfit for his auditions. This guy hails from France. When he was asked what would he do, he simply said 'let's see'.
Herwan is nothing but, a sword swallower. While conducting his act people were quite scared looking at his audition. After putting a normal sword, he even put a glowing sword into his mouth. This is where all the judges and viewers were amazed and in the end, he received a 'yes' from all four judges.
11. Chioma and The Atlanta Drum Academy
The Group was the final performance of thee day and got the Golden Buzzer from Terry Crews. To find the complete performance of the Atlanta Drum Academy group read here.